GNC series of Nickel Cadmium Super High Rate
Sintered Plate Alkaline Storage Battery
General
Nickel cadmium alkaline storage battery, including sintered plate type battery and pocket plate type battery, is a kind of safe and reliable power source. Compared with lead acid battery, it has the feathers of high power, long life, minimal maintenance and comprehensive costs, as well the wide operation temperature range, lower installation requirement. It will never give up any gas hazard to environment. Its advantages of light weight, long life and high reliability are specially appeared in the application required high power discharge. So, nickel cadmium alkaline batteries are widely used in industrial fields.
Nickel cadmium sintered plated type (GNC range, KXP in IEC standard) batteries are specially designed using high power sintered plates and anti-alkaline separators. The separators can provide insulations between plates and permit free flow of electrolyte.
Engine starting, UPS system, bow ascending and descending in electric vehicles, emergency braking, switchgear, and Other critical applications.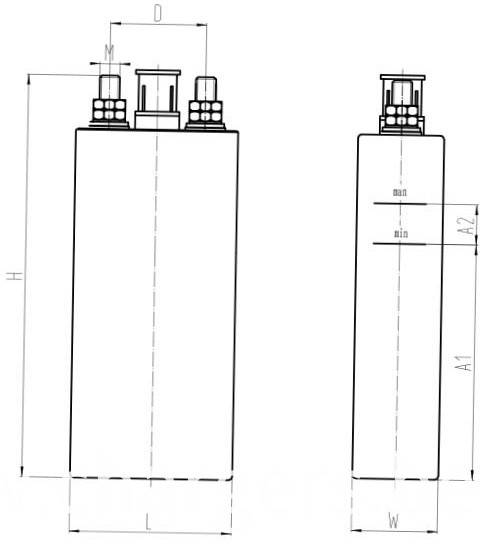 Charge and discharge characteristics
Type

IEC type

Constant current

Constant voltage

Floating

Equalizing

GN

KLP

0.2C5A for 7~8 hrs.

1.48V~1.50V/cell

1.55V~1.60V/cell

GNZ

KMP

0.2C5A for 7~8 hrs.

1.42V~1.45V/cell

GNC

KXP

0.2C5A for 7~8 hrs.

1.40±0.02V/cell

1.45V~1.50V/cell
Note: The battery can be charged by all normal methods. Generally, batteries in parallel operation with charger and load are charged with constant voltage. In operation where the battery is charged separately from the load or the initial charge for the battery delivered in discharged condition, it is recommended to charge the battery with constant current.
Charging curves of GNC series of nickel cadmium super high rate sintered plate alkaline storage battery:
Discharging curves of GNC series of nickel cadmium super high rate sintered plate alkaline storage battery: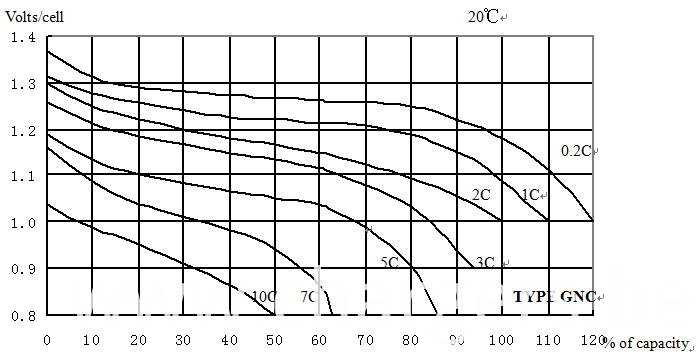 Capacity and dimensions of cells