PZDK Series of Battery Charging and Discharging Devices Intelligent Rapid Charger
General
PZDK series of Lead Acid Battery Charger, by utilizing various of charge and discharge curves, provide charging/discharging and maintenance of storage batteries such as LA, Ni-Cd, Ni-MH, Li-ion battery. It is applicable to aircraft battery, AGVs(Automated Guided Vehicles), electric vehicles(EV), locomotives, railway vehicles, generator cars, battery formation, ships, marine petroleum platform and the Other fields.
Model Description

Industrial Battery Charger Automatic Type
Function of soft starting, soft switch-off.
Charge & discharge parameters and duration can be preset.
Easy operation with complete protection function.
Automatic stop at the end of charging and discharging.
Capacity display for charging and discharging can be optionally equipped with.
Industrial Battery Charger Intelligent Type
Programmable control, easy operation with complete protection function.
Multi-option of running modes, the work process can be completed automatically without manual intervention.
Less heat generated during discharging, energy can be fed back to the grid, energy saving and consumption reducing, can improve working condition markedly.
Real-time display working status and all kinds of running data.
Provided with historical storage function, can check historical records at any time.
Optionally equipped with print function to print real-time and historical work status and data.
Optionally equipped with serial communication function which is convenient to build network among many devices.
Technical Parameter
Input voltage: AC 220V ± 10% or AC 380V ± 10%(3-phase, 4-wire);
Output voltage: DC 0V ~ 660V;
Output current: DC 0A ~ 300A;
Charging current precision: ≤±1%;
Discharging current precision: ≤±1%;
Noise: ≤ 55dB;
Cooling method: Air cooling
Custom Battery Order Information
Please state type, model and quantity of storage battery.
Technical requirements about charge and discharge.
Technical requirement about special design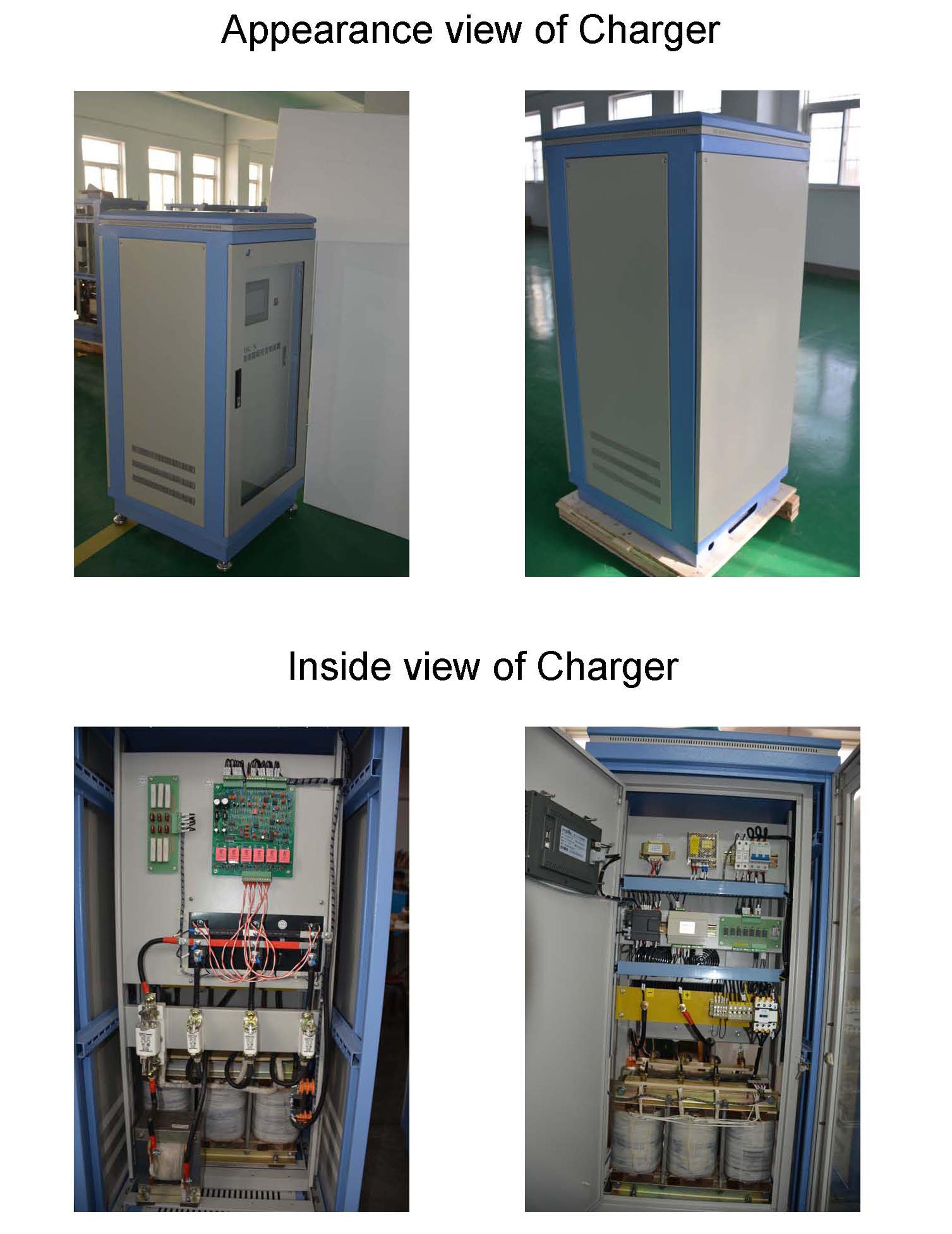 Specification of lead acid battery charger for electric pallet truck 24v 48v